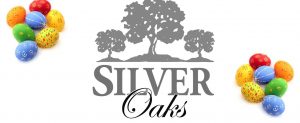 Easter in the Park
Saturday, March 24 10:00 – 12:00
Silver Oaks Community Park
Join us in the park for a joyful, friendly event. We will hide eggs for the children, the Easter bunny will hop by for pictures and some other outdoor fun will be available.
The Egg hunt will begin at 10 am. We recommend getting there early. To be fair to all children, please do not start early.
Sections of the park will sectioned off by age group, so please plan to have your children gather by the appropriate signs for their age, if participating in the egg hunt. Signs graciously donated by Mustard Seed Early Childhood Development. The age groups are: Under 4, 5-6, 7-8, 9 and older.
Rules and other information for the egg hunt:
• Stay on the sidewalks before 10am but spread out (will try to have caution tape up).
• Parents, please don't let your children on to the egg fields prior to the start whistle and help patrol for other kids.
• Parents, let your children gather the eggs
• There are plenty of eggs to go around (estimated each child could get up to 25 eggs…and 20-25 is a decent amount so please don't get greedy).
• We will have containers and bins set out to leave the plastic eggs after you've taken the contents. Please help us retain as many plastic eggs as possible.
After the egg hunt:
• Lance Meyer photography will be taking pictures throughout and will have Easter Bunny photo opportunity (after the egg hunt). We will have a grab bag that will be with the photographer, get your picture taken with the Easter bunny and grab an item from the bag.
• We have seven prizes to raffle off so be sure to get your raffle tickets for the prizes you would like to hopefully win. These are free.
• Bring games and outdoor activities and stay a while.
• A porta potty has been rented, so no need to leave if you need to use the restroom.
Thank you to all the volunteers who donated and help make this happen!