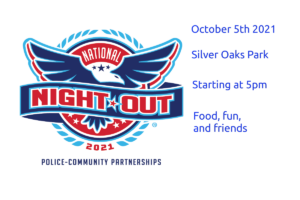 Tuesday, October 5, 2021 AT 5 PM CDT
Silver Oaks Community Park
Join us at the PARK for food, fun, and community activities. Bring your blankets and/or folding chairs!!!
Events include bounce houses, food trucks, Folks Band, face painting, and local vendors.
If you wish to have a table at the event please contact: Julieps23@live.com

Please wear masks when in areas where social distancing is not possible.

The introduction of National Night Out, "America's Night Out Against Crime", in 1984 began an effort to promote involvment in crime prevention activities, police community partnerships, neighborhood camaraderie and to send a message to criminals letting them know that neighborhoods are organized and fighting back. NATW's National Night Out program culminates annually on the first Tuesday of August (in Texas, the first Tuesday of October). National Night Out now involves over 37.8 million people and 16,124 communities from all fifty states, U.S. Territories, Canadian Citites, and Military bases worldwide.

The traditional "lights on" campaign and symbolic front porch vigils turned into a celebration across America with various events and activities including, but not limited to, block parties, cookouts, parades, visits from emergency personnel, rallies and marches, exhibits, youth events, safety demonstrations and seminars, in effort to heighten awareness and enhance community relations.